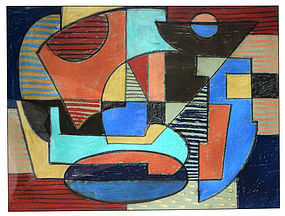 click for details
Ramstonev modernist abstraction - crayon and pastel on paper
Circa 1939
Dimensions - image - 18" x 24"
Estate stamped on verso
Framed
Condition - very good
This work was done during the late 1930's as part of the 'Cooperative' project in the New Hope, Pa. modern art community. Charles Ramsey, Louis Stone and Charles Evans worked collectively on many drawings and paintings during this time...

click for details
Harry [Herschel] Levit, American. 1912-1986.
Studied at The Pennsylvania Academy of the Fine Arts.
Exhibited at - The Art Institute of Chicago, Brooklyn Museum, Metropolitan Museum, New York, Pennsylvania Academy,and The Whitney Museum of American Art.
Crayon or pastel on paper signed Harry Levit 1933. Paris.
Image - 8 3/4" x 12".